Wetland project will benefit whitebait
Enhancing the habitat for breeding adult whitebait is one of the main objectives of wetland improvement work on Wadeson Island in the Hokitika River, which started in February.
The project, led by Conservation Volunteers New Zealand and supported by Westland Milk Products and the Department of Conservation (DOC), involves improving the formation of water channels, clearing weeds and planting native vegetation alongside the stormwater drain that sits between the stop bank and sports fields on the island.
Westland Milk Products Environmental Manager Chris Pullen says supporting the project is a natural extension of Westland's relationship with the Hokitika River.
"Westland has a key role as a custodian of the river. It is on our doorstep and currently receives our treated wastewater. We have a long history of cooperation with whitebaiters, DOC, and Conservation Volunteers to do what we can to enhance and protect the river and its environment."
DOC Ranger Tim Shaw says the work will especially help inanga, one of the five native fish species that make up the whitebait catch.
"At low tide in the current drain there is nowhere for adult inanga to hide and they are easy pickings for white heron and other predators. Providing a better home for these fish means more will survive to spawn."
James Washer, Conservation Volunteers, says the trial area is near the state highway bridge. The trial will see lower areas excavated to hold water at low tide, and vegetation such as flax will be planted at the water's edge to provide shade and cover.
James says the first part of the project has been kept small to allow lessons to be learned.
"We imagine it will take a bit of trial and error to get the levels and depth right. The vision is to not only help out whitebait, but to improve an area of greenspace on the approach to Hokitika."
James says efforts to revegetate this part of Wadeson Island started in 2004 and included a walking track. The wetland restoration will not affect the track or the previous plantings, which were successful.
"If members of the community wish to get involved as volunteers with this project then we are keen to hear from them," he concluded.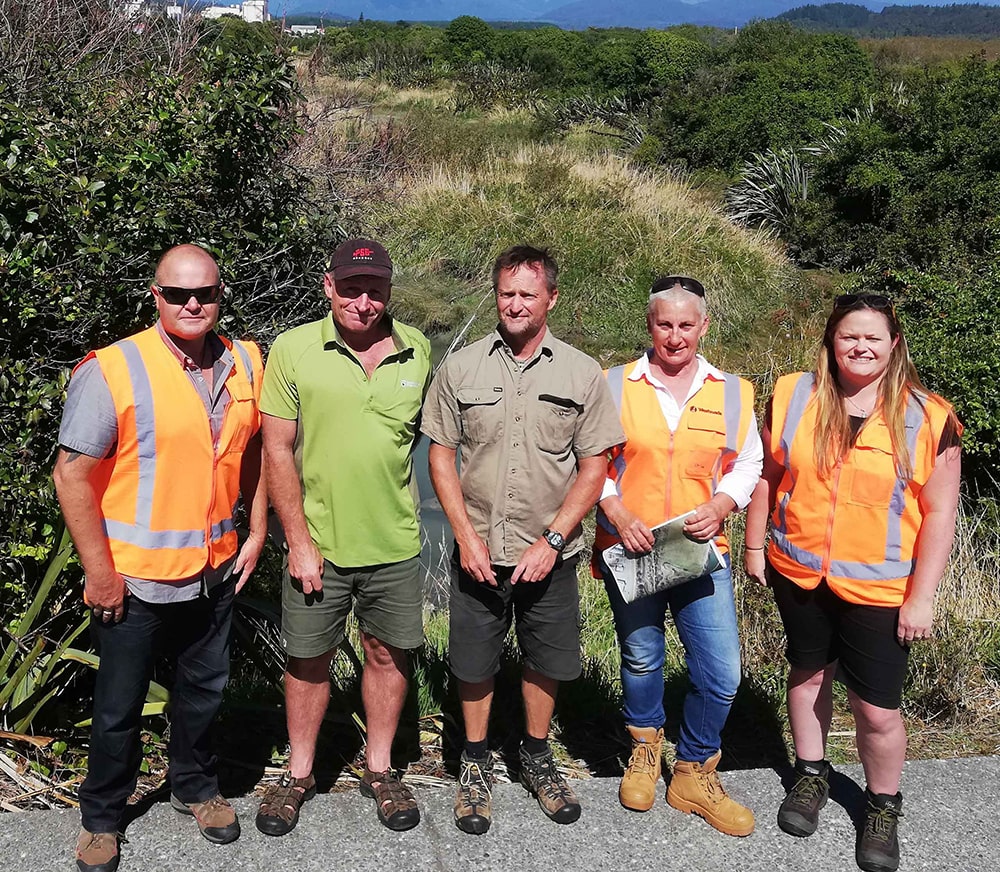 Photo: Westland District Council Operations Manager Erle Bencich, left, Department of Conservation Ranger Tim Shaw, Conservation Volunteers New Zealand West Coast Regional Manager James Washer, Westroads representative Donna Bencich, and Westland Milk Products Environmental Engineer Stacey Sawyers in front of the Wadeson Island channel, which is being restored to make a better habitat for whitebait.