Natural determination is a promise of a natural tenacity to do right by our customers (and their customers), our animals and environment.
The Story Behind Westland Milk Products' Environmental Policy
Westland has an Environmental Management System (EMS) that provides the framework under which the company can carry out its environmental management principles, obligations and responsibilities. Included in this is are;
our holistic environmental strategies which focus on ensuring we have a product lifecycle sustainability approach to managing our product's existence so that any negative impact on the environment is minimised.
a set of processes and practices that enable us to reduce our environmental impacts and increase its operating efficiency on site and on farm.
A part of the EMS is the formation of our Environmental Policy that reflects our commitment to continually improve our environmental performance both holistically and day to day on the ground.
To support the 5-year business strategy which outlines plans to use a differentiated, high value, and high quality product strategy, the business may experience an increase in the supply of milk, mainly driven by the availability of capacity on site and the desire to diversify. As production increases so does the potential environmental risk.
Westland's environmental management obligations and responsibilities must therefore increase with elevated demand on resources while always taking a sustainable approach.
As an example, as supply increases over time Westland has seen an increase in the consumption of coal, water and electricity. New product ranges demand new packaging and ingredients both which contribute to our waste stream. Subsequently, waste and emission volumes are elevated. The challenge is to discover and implement initiatives to sustainably manage this increased waste stream and associated environmental risks, taking any opportunities to perform efficiently at every level of production.
Facing these increased risks does present major challenges. If these are overcome, Westland should then be at the cutting edge of currently acceptable practices and receive recognition for this locally and abroad.
Against a background of continuous development, upgrades and resource requirements it is unlikely that demand for resources will decrease. How we therefore manage and improve our environmental footprint is key. How we maintain our EMS is a fundamental component to this industry, from farm gate to factory. The successful implementation of the EMS will promote customer confidence both at home and abroad.
Our Commitment
Our policy is not just a certificate on the wall. Westland is committed to the principles of environmental management, awareness and improved performance.
The EMS, established 12 years ago has been certified by Enviro Marks diamond standard (https://www.toitu.co.nz/what-we-offer/environmentalmanagement-systems). This is re-certified annually. This reflects Westland's commitment to continually improve environmental performance. The system is designed to guide the company towards operating in a manner that enables the sustainability of local and global environments.
With this system, Westland makes a commitment to reduce its environmental impact by identifying new environmental initiatives and innovations for sustainable improvements. Two key areas in which Westland aims to improve are;
Reduction of carbon emissions


Reduction of waste streams
These areas have the highest impact on the environment. These two areas are long term goals with targets set in incremental stages each year to gradually improve and reduce our impact on the environment.
Our specific commitments are to:
Protect the environment
Employees and suppliers have the privilege of living and working in an outstanding natural environment. Our dairying activities occur across the West Coast and Mid Canterbury regions, interacting with this environment. It is our commitment to adhere to environmentally sustainable business practices. Through continuous improvement and implementation of sound principals, we can develop and grow without any impact to this place we call home.
Implementing climate change initiatives to reduce/offset carbon emissions
Climate change is a serious issue and supports low carbon initiatives. Westland Milk Products has partnered with the Energy Efficiency and Conservation Authority (EECA) and developed a long term climate change strategy to transition the company to become a low carbon emitter. This means that when it comes time for Westland to replace or upgrade assets that have a high carbon footprint, the company makes good decisions on what is done. The aim of this strategy is to position the company in line with "zero carbon emissions by 2050".
Sustainable procurement and use of resources
Westland is embarking on an initiative to sustainably procure all raw materials and to consider the life cycle of products and services and their design, aiming for them to be as sustainable as possible. The degree of sustainability is largely determined at the beginning of the product lifecycle, in which the product is designed and developed. At this stage, decisions about materials and processes required to create the product can have a significant impact on the product's environmental footprint.
Our intention is to buy materials with an eye to reuse that will increase the sustainability of the practices at the end of the product's usable life. This includes buying materials and resources that come from renewable sources, reusing or recycling waste, or passing it on to other businesses to use as a resource. Westland aims to go beyond our legal obligations by anticipating changes and making adjustments before legislation comes into force. This process includes involving employees and other stakeholders in sustainable development with training and incentives to encourage companywide buy-in. There is also a movement to reduce the use of all raw materials, energy and supplies using energy and water efficiently
Reducing waste and preventing pollution
Westland looks to continually improve on reducing waste and preventing pollution which includes reducing solid and liquid waste.
Continually improve our environmental management and performance
Westland aims to achieve 100% compliance with all applicable environmental compliance obligation, by understanding the needs and expectations of interested parties. Westland assesses the environmental impact of all historic, current and likely future operations and continually seeks to improve environmental performance.
Social responsibility
Westland aims to raise awareness, encourage participation and train employees in environmental matters. We expect similar environmental standards from all suppliers and contractors and assist customers to use products and services in an environmentally sensitive way. Westland actively liaises with the local communities and participates in discussions about environmental issues. We communicate our environmental aims and objectives to employees and external stakeholders and agree where practicable to commit to the environmental principles of all interested parties.
Our Story Behind the Policy
Westland. A place, a spirit, a people, and a brand, born on the beautifully raw West Coast of New Zealand's South Island, where nature determines who we are. It is this naturally determined, adaptive spirit that enables our customers to find their edge, to nourish life through our products we have made beautifully for generations.
Westland prides itself on helping to create greater in market differentiation through our grounded expertise and this spirit of natural determination. Natural determination speaks to how nature leads the way determining our actions on-farm and is a promise of a natural tenacity to do right by our customers (and their customers), our animals and environment.
Our location amongst pristine landscapes, surrounding the majestic Southern Alps, needs to be at the forefront of our business strategy and product quality because this is core to who we are and our purpose of 'nourishment made beautifully for generations'. With nearly 400 farms and 600 employees working as part of Westland Milk Products we must also do this for our community.
Our product life cycle starts here. We are the custodians of this stunning environment and from the wildest places, come the purest ingredients.
Measurement
The EMS adopted by Westland Milk Products is regulated by Enviromark and externally audited. The EMS is subject to external annual surveillance audits with a re- certification every year.
You can download a copy of our Environmental Policy from the Downloads area at the bottom of this page.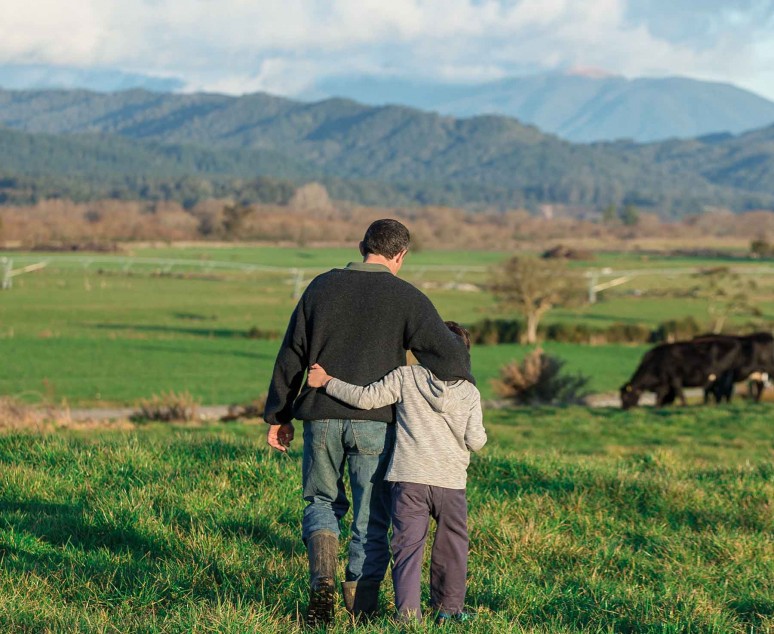 Our CSR Strategy
We are very lucky to operate in one of the most beautiful, unique parts of the world – the West Coast of New Zealand. Developing a formal strategy with a clear roadmap to improvement will push us further to protect and care for both our people and our place.
Download
Environmental Policy 2023