Westland Milk Products is taking a 'whole-of-business' approach to reducing the company's carbon footprint, says Environment Manager Chris Pullen.
Pullen recently presented to the Minerals Forum (Queenstown 29 and 30 May) on the subject of lowering Westland's carbon footprint. He says the co-operative is investigating practical initiatives to reduce its carbon emissions.
His key message was that rather than just focusing on the company's use of coal for its boilers, the best way to achieve an overall reduction in Westland's carbon footprint was to look at every stage of production - from on-farm processes through collection to factory processes, and opportunities to reduce carbon use within the supply chain.
"Coal is, and will remain for some time, our most cost effective and reliable fuel source on the West Coast," Pullen says. "However we are employing a number of strategies to ensure that, overall, Westland Milk Products' carbon footprint is reducing."
Pullen says Westland is considering progressive initiatives such as the use of marginal lands to create plant-based carbon sinks and purchasing bio-fuel capable milk tankers. The co-operative is also managing its freight systems to reduce kilometres travelled and to use more fuel efficient and/or bio-friendly transport options.
"We are limited on energy options on the West Coast," Pullen says, "which means we have to work smarter to achieve acceptable progress on managing carbon emissions. So we've also found ways to maximise efficiencies with the operations of our boiler. All of this is resulting in a net reduction in our carbon footprint, and giving us time we need to look at longer term options around coal use."
One of the on-farm initiatives Westland is developing is the use of miscanthus grass (Miscanthus giganteus) for planting on marginal lands. The grass can reach heights of three to four metres and, after becoming established, can make that sort of growth from cut back/harvest each year.
"This would be additional to riparian planting to protect waterways," Pullen says. "Miscanthus grass is three times more efficient than the average pine tree at storing and holding carbon. Furthermore, the grass can be used relatively easily to produce bio-fuel for on-farm use, and/or as cattle fodder, and as bedding in calf or loafing barns."
Pullen says early miscanthus trials by Lincoln University (sponsored by Westland) were encouraging and now the co-operative is trialling the giant grass on West Coast farms.
"If we get to the stage where most of our farms are growing miscanthus grass on marginal lands, the net reduction in our overall carbon footprint will be substantial. We're also supporting the Sustainable Agricultural Land Management (SALM), an initiative that looks at 'carbon farming'. This has huge potential and we have been making representations to Government that SALM should be recognised as an effective means for reducing agricultural carbon emissions."
Additionally, Westland is progressively purchasing Euro-5 Scania milk tankers for its milk collection fleet. These tankers are bio-fuel capable, giving the co-operative that option if bio-diesel becomes more readily available. Even when run on traditional diesel, these trucks are far more fuel efficient, again reducing Westland's overall carbon emissions.
"In our boiler itself," Pullen adds, "we have identified some 17 different measures to enable the plant to run much more efficiently, producing far cleaner discharges to the air and reducing the amount of fuel that has to be burned for the same heat output."
Pullen says that it is unlikely there will be an economic alternative to coal-fired boilers on the West Coast, at least not in the short to medium term outlook. But by introducing all of these other measures, Westland Milk Products is still able to reduce its total carbon footprint.
"The good thing is that this is not a finite process," Pullen says. "Reducing our carbon footprint is a journey that encompasses our complete supply chain and product lifecycle. The people of New Zealand, our customer base and international clientele expect us to continuously improve and implement any opportunity that will contribute to reducing our carbon footprint."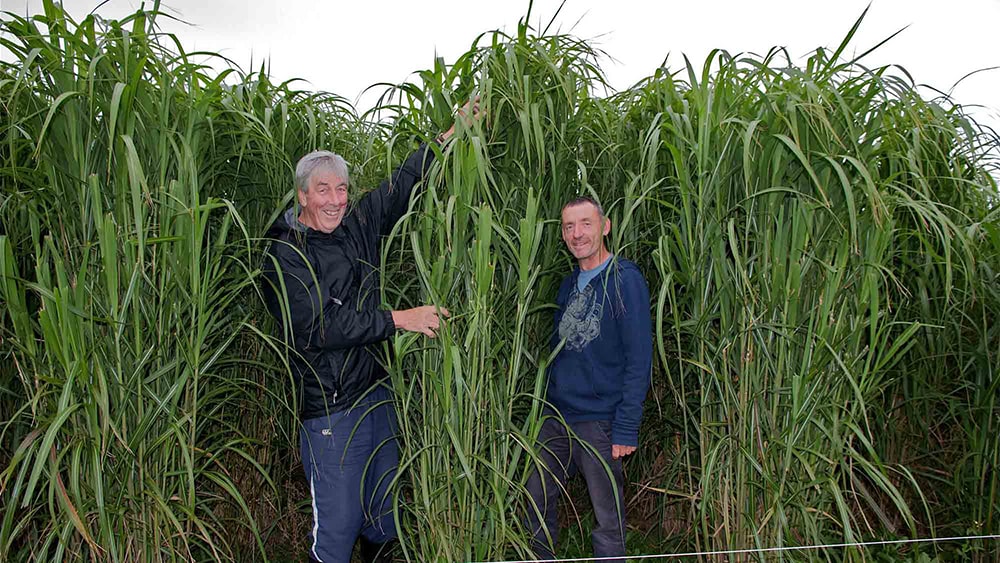 Image: Steve Wratten (left) and Chris Littlejohn of Lincoln University.
ENDS
Media inquiries to:
Steve Attwood
Communications Manager
E: [email protected]
P: 03 943 0580
C: 027 4191080